Enhanced TeleSales for Exchequer Enterprise
---
The primary aim of the Master Link TeleSales Module is to enable the user to be able to enter an order as quickly as possible whilst the customer is on the phone.
It offers the operator a telesales list of products specific to that customer, a special offer list etc. It provides a front office order entry interface, utilising the award winning Exchequer Enterprise for the back office order processing and accounts functionality.
It may be used as a TeleSales module from within Exchequer Enterprise or used in conjunction with either of the two most popular Customer Relationship Management packages (CRM) on the market - Goldmine or Microsoft CRM. The CRM, such as FrontRange Goldmine, may be used to hold customer information, such as scheduled calls, e-mails, linked documents, transaction history to drive a TeleSales environment. Master Link Telesales moduel is FAST AND EFFECTIVE.

0:00 Demo Quick Order
4:30 Lets see that in more detail
Enhanced TeleSales shows related Exchequer information:
---
Enhanced TeleSales shows related Exchequer information all on the same screen: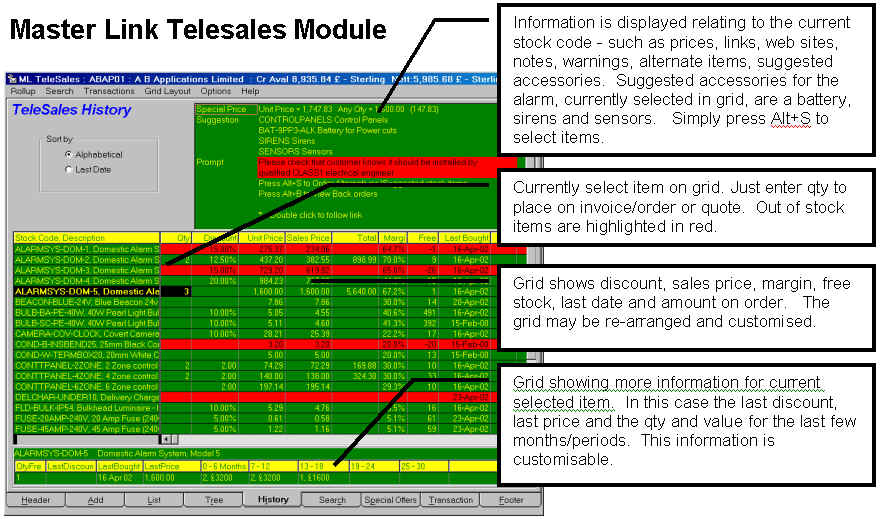 Enhanced TeleSales for Exchequer features:
---
The user is able to build up the order and select the stock items by:-
Stock Code:

Selecting stock by entering the stock code.

Stock Tree:

Selecting a heading from the Exchequer Enterprise stock tree and drilling down to stock items, which are below the heading, for quick and easy selection.

Alternatives and suggestions:

A window, at the top of the screen, shows detailed information on each stock item. This detailed information may include alternative stock codes (if the selected item is out of stock or discontinued) or suggested accessories (batteries, cables, etc).

Search:

Allowing the user to search for stock by ANY WORD on the stock record. Additional words may also be added – in the background to the database by specifying them in the stock general notes. These background words are not normally visible and may be abbreviations, short forms or misspellings.

Special Offers:

Displaying a list of items, which are currently on special offer. Any number of special offer lists may be created. These lists may be linked to customers of a certain type.

History:

Any selected item displayed on the history screen shows all previous buying patterns of the item to the customer.

Bespoke List:

Bespoke lists of products, may be set up displayed in a two level tree, for quick selection. These lists may be linked to customers of a certain type.



Any of the above options may be turned off to simplify the display to the end user meaning that the screen display may be customised to each individual user or display a 'standard' format. The stock items are displayed in a grid similar to MS Excel. Column width and cell colours may be customised

Other Features:
---
Credit Card Orders

Credit card orders may be processed or cached to file for credit validation. Designated users may process the batch of credit card transactions immediately or by batch.

Place orders (SOR), which are paid by credit card payments (SCR). Provides matching routine to match off the two transactions when invoiced.

Customisable

Grid columns may be re-arranged and stored.

Four layouts may be stored to allow the user to quickly change the display (to display the value of order, history, full description etc.).

Colour may be customised to highlight lines of certain types.

Delivery Charges

Automatically apply delivery charges based on transaction value, distance, weight of order or cubic size of stock item.

Delivery Address

Multiple delivery addresses may be stored in Goldmine (Contacts Tab) or TeleSales Delivery Database.

Display Information relating to Stock item

Link stock items to web pages or documents for detailed information.

Link stock items to accessory items, such as batteries for a TV remote.

Link stock items to a group of alternative items to out of stock lines.

View back orders (SOR & POR'S) for stock item.

Warn if item margin is lower than x%.

Simple Search for products

Search for any word on stock record or supplementary words.

Customise the word search to search certain fields, such as by user 1 and user 2 on stock record.

Track Operator Turnover

Track user sales totals for day, broken down by order, invoice, quote, suggested items etc

Exchequer Enterprise Links

Exchequer Enterprise is used as a back office sales order and stock processor.

Multi currency.

Multi location.

Collections may be entered as quotes and converted to credit notes in Exchequer Enterprise.

Customer Order Information

Shows customer history on all tabs, plus history in tree, search and transaction views.

Warns if customer already has stock item on order.

Display outstanding orders for customer quickly.

Schedules follow up calls (via Goldmine /ACT)

Customer orders may be entered and saved to file and reloaded at any time to enable Customer to complete or confirm order at a later time.

Van Routes

Tracks van delivery route totals by weight or cubic capacity for the day.

Warns for theoretical pallet qty.

When used with Master Link and Goldmine/ACT

Use "call identification" to pop customer details up on screen when they call in.

Schedule telesales calls for operators.

Import leads from text files.

Share information between operators.

Use Goldmine to hold small turnover or single transaction account details, without setting up account in Exchequer Enterprise.

Quotes tracked as forecast sales posted to Goldmine/ACT.

Quotes posted as linked documents to Goldmine/ACT. Linked quotes may be opened by double clicking on the quote to open it in the Master Link TeleSales module.

Create mail shots to potential customers.
Synchronise customer and transaction information to external sites.
Customer Comment:
---
"We are glad we chose Goldmine and Master Link, we use Goldmine to share information, e-mails and account information about our customers. The TeleSales department use Goldmine to schedule phone calls to our customer base taking orders quickly via Master Link TeleSales Module." says Toni Guarnieri at Tri-Star Packaging Ltd.


Requirements:
---
The TeleSales module requires very fast access to the Exchequer Database, we therefore recommend that the networks should be a non congested 100MPS network. For more than 4 users (of Exchequer and the Telesales module) use the Exchequer Client Server engine.
Exchequer Enterprise SPOP module to enable order processing.

Exchequer Enterprise Telesales module enabled to view "History" tab

Optionally Master Link and Goldmine (or ACT, or Maximiser) to front the telesales operation.

The TeleSales Module requires the use of TLUser4 and THUser4

Price:
---
Contact us for a demo copy of Master Link TeleSales.
Number of users

COM Toolkit Runtime Licience *

Purchased from Exchequer

Stand Alone Telesales

For use within Exchequer Enterprise without CRM integration

Complete TeleSales front end for CRM package

Includes Master Link for ACT/Goldmine

1-8

£540

£3,200

£4,000

9-12

£830

£4,800

£6,000

13-16

£980

£5,600

£8,000

17-20

£1,150

£7,000

£10,000

21-24

£1,310

£8,400

£12,000

25-28

£1,490

£9,800

£14,000

29+

Prices on request

Upgrade Support

25% of Software

25% of Software
Please note :
Master Link requires a COM Toolkit Runtime License purchased from Exchequer.
It requires the same number of COM Licenses as the number of Master Link TeleSales users.