sales-i Business Sales Analysis/CRM
---
sales-i is a unique sales management software, business intelligence and CRM application designed for a myriad of manufacturing, distribution and wholesale businesses. By working in sync with your Enterprise package, sales-i highlights and delivers key insights to help grow revenue and profits within existing accounts, on PC, Blackberry, iPhone and iPad.
Business Intelligence to work the customer better
This new view of your world liberates sales people and management by presenting knowledge and opposed to 'data', giving you the information you need, when and how you need it – across a range of platforms including iPhone, iPad and Blackberry. Spot gaps in sales, identify drift and leakage, create and deliver alerts and record CRM data to make a huge difference to the way you do business.

sales-i features
---
Business Analysis
Complete sales business analysis
Potential competitive threats analysis
Spot cross-selling
Gap and leakage analysis
Sales alerts to inform you of customers breaking certain radars
Integrated CRM platform:
Recording call notes, opportunities, key facts, credit information and sales analysis
Schedule and keep track of follow up calls and activity via MyCalls and sales-i calendar
Management reporting – opportunity pipelines, activity reports, call spend summaries
Collaborate effectively with teams, companies, individuals
Sales and Customer Intelligence which has taken the US and UK by storm
Sales intelligence and CRM information to a range of mobile platforms including iPhone, iPad, Blackberry.
More Information
---
sales-I delivers instant ROI through a simple and intuitive subscription based 'cloud' service.  Comtek have developed the software to extract the information from Enterprise and update Sales-I on a daily basis, to give an up to date sales intelligence like no other package we have seen.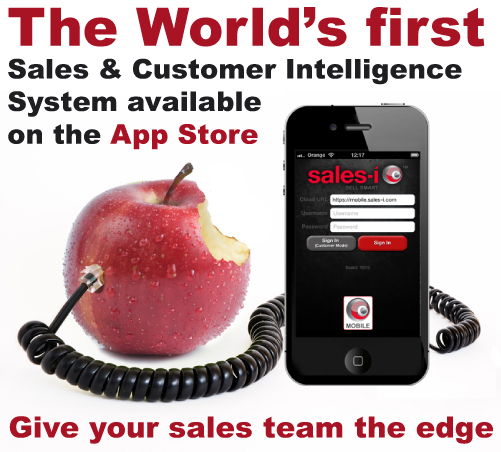 sales-i for iPhone is the first truly integrated business intelligence and CRM app giving internal and external sales teams instant visibility of customer trends and analysis via laptops and all mobile devices - now via the Apple App Store.

"This is another breakthrough for sales-i as they tear down the boundaries around business intelligence and CRM; delivering an intuitive, user focused experience this time via sales-i for iPhone". Make better use of your business data by embedding sales-i into your business today."

"Having surveyed many Business Intelligence & CRM applications out there today, sales-i is the most intuitive, and easy to use. Its out-of-the-box functionality is beyond compare! But the thing that has really blown me away, is the shear speed with which it accesses and presents all of my sales data, even on our 2Mbps internet connection! To choose any other analytics & CRM solution, is both a waste of time and money." - Ryan Mills

To find out more about sales-i you can visit www.sales-i.com or contact us to arrange a demo.
Sales-i export program
---
We have provided a simple on line manual, explaining the functionality.